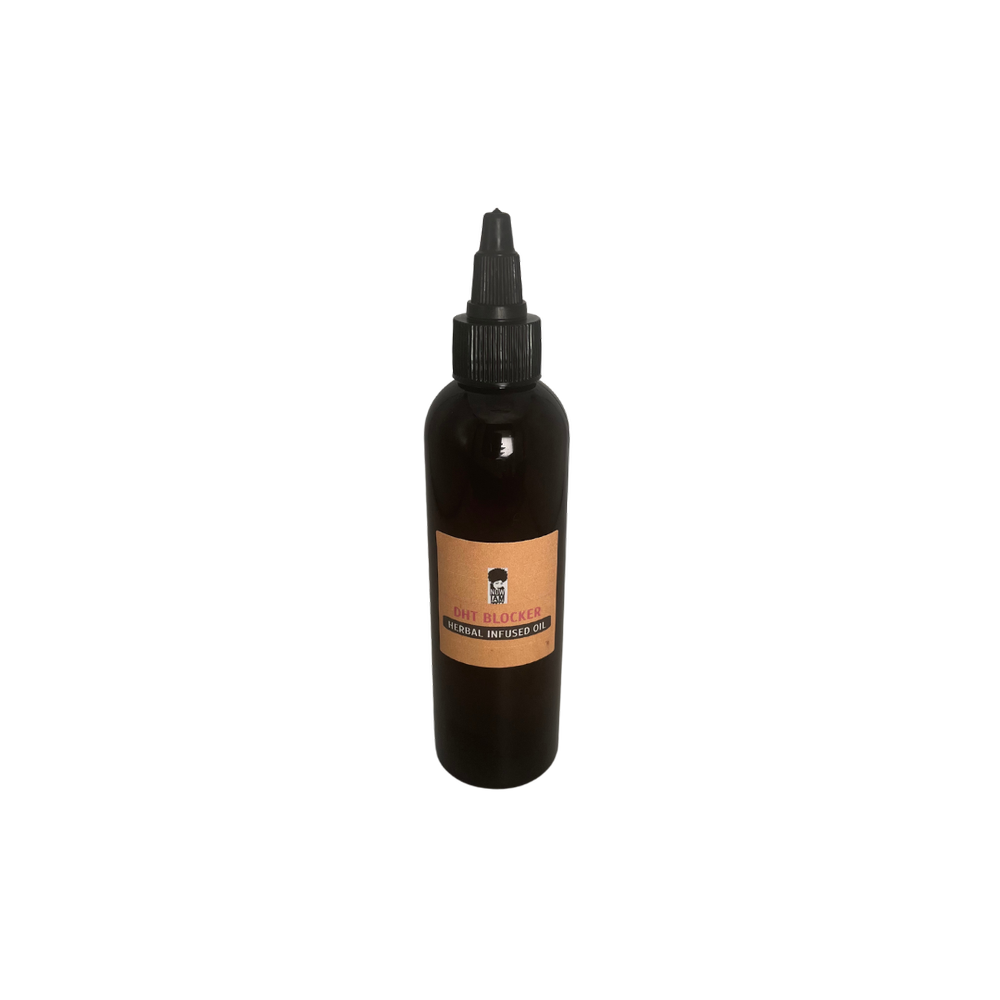 Ingredients

How To Use

Benefits
Key Ingredient Benefits
Pumpkin seed oil contains delta-7-sterol, a steroid that competes with DHT receptor in hair follicles and prevent the buildup of DHT. Pumpkin seed oil contains beta-sitosterol, antioxidants as well as fatty acids that are very beneficial for helping hair growth.
Grapeseed Oil is rich in phenolic constituents like resveratrol and quercetin that act as antioxidants. It also contains tocopherols, carotenoids, linoleic acid, and phytosterols that are antimicrobial and provide nutrition. The linoleic acid and other α-hydroxy acids of the grape seed oil are potential DHT blockers.
Apricot Seed Oil contains healing, antiseptic, antibacterial, antioxidant and anti-aging properties when applied on the skin and hair. It contains high concentration of vitamin A which is necessary for cell rejuvenation and collagen stimulation. The omega 3 fatty acids reduce inflammation in the scalp which causes hair thinning and hair loss.
Pumpkin Seed Oil, Apricot Seed Oil, Grapeseed Oil, Saw Palmetto Berry, Stinging Nettle, Green Tea, Fenugreek, Horsetail, Bhringraj, Burdock Root, Amla, Chamomile, Peppermint Essential Oil, Tea Tree Essential Oil, Lavender Essential Oil, Rosemary Essential Oil
HOT OIL TREATMENT: Place the bottle in a water bath. Let the oil warm up for 20 minutes. Apply the oil to your scalp and strands and let sit for a minimum of 30 minutes. Cleanse your hair as normal.
OILING SCALP: Apply the oil to your scalp every 2-4 days and massage with the pads of your fingers to increase blood circulation.
BEST RESULTS WHEN USED CONSISTENTLY
A highly effective formula specifically developed to increase blood circulation stop hair loss and stimulate hair growth while encouraging hair follicles to remain in their growth phase. This treatment restores the hair growth cycle by combatting both genetic and environmental factors of hair thinning, addresses hair loss and fights chronic and severe thinning at the root, helping combat premature loss and encourage healthy growth.