Oat and Aloe Deep Conditioner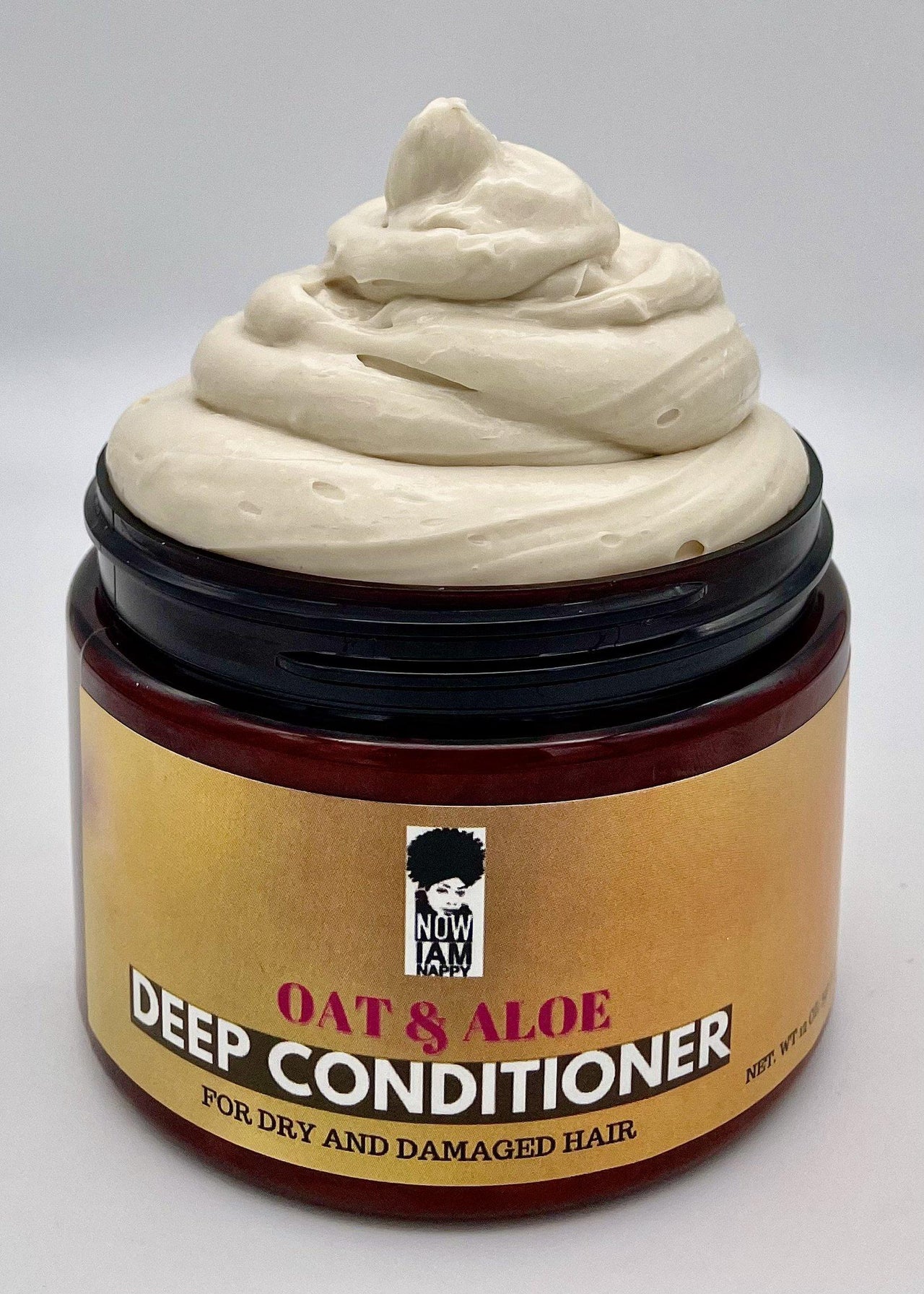 Benefits:

Ingredients:

How To Use:

Free Shipping Available:
Contains Natural Moisturizing Factors and Superior Water Retention. Proline and hydroxyproline are excellent moisturizers with the highest water holding capacity of all amino acids.  Sodium PCA is a super moisturizer, compared to other humectants it has the highest in vitro water binding capacity. Sodium Hyaluronate can hold 1000x its weight in water. Provitamin B5 (panthenol) supports barrier health and helps lock in moisture.
This conditioner will replnish those dry, dehydrated strands making hair feel supple, providing incredible slip, improving hair growth, and hydrating a dry scalp.
Key Ingredient Benefits
Collodial Oats: rich in Beta Glucan which stimulates cellular growth in tissue and repairs hair. Is a natural anti-irritant and has a wide array of skin & hair benefits due to it's ability to soothe irritation, and redness caused by exposure to harsh weather or certain skin conditions such as general skin rash or other dermatitis conditions. It is an excellent film former, that improves hair elasticity while moisturizing the hair.
Aloe Vera: contains great moisturizing benefits and is rich in vitamins A, C, and E which keeps your strands healthy. Contains anti-inflammatory benefits that aid to soothe an itchy scalp.
Horsetail Extract: aids in repairing and refining the hair follicle . Is rich in selenium, a mineral that is essential for the proper growth of your hair. Also contains silica which helps improves sheen and texture of the hair.
Rosemary Extract: stimulates scalp circulation, contains anti-inflammatory properties to help and prevents premature graying.
Chamomile Extract: helps to soothe inflammation from itchy scalp due to dandruff, dermatitis, eczema, and psoriasis.
Distilled Water and infused with Horsetail Extract, Chamomile Extract, Nettle Extract, Sage Extract, Rosemary and Lavender Extract, Aveena Sativa (Oat) Kernel Powder, Aloe Vera Juice, Behentrimonium Methosulfate, Cetyl Alcohol, Butylene Glycol, Butyrospermum Parkii (Shea) Butter, Mango Seed Butter, Avocado Oil, Sweet Almond Oil, Extra Virgin Olive Oil infused Ayurvedic Oil (10 herbs), Honeyquat, Panthenol, Sodium PCA, Wheat Amino Acids, Glycerin, Sodium Hyaluronate and Hydroxyproline, Phenoxyethanol, Caprylyl Glycol, Sorbic Acid (paraben & FORMALDEHYDE FREE Preservative), Gluconolactone and Sodium Benzoate, Essential Oil Blend for Fragrance.
Deep Conditioner has a lemongrass scent (contains Citrus Essential Oils).
Apply to freshly washed, damp hair for about 30 – 45 minutes with a shower cap, alone or under a hair steamer. Rinse with cool water and style as desired.
pH balanced: Optimized for hair between pH 4.5-5.5.
Get Free Shipping On Orders over $89| Ships Anywhere In The Continental USA
Delivery: Usually ships within 3 business days via USPS.